Frida Kahlo once said her paintings carry pain with them. This is perhaps most relevant in her 'Self Portrait with Thorn Necklace and Hummingbird' or 'Autorretrato con Collar de Espinas'.
Kahlo painted this piece in 1940, after her divorce from husband Diego Rivera in 1939, the same year her affair with photographer Nickolas Muray ended. Losing her two loves led her to paint her most influential and compelling portraits.  The raw emotion and symbolism of pain can be seen in her 'Self Portrait with Thorn Necklace and Hummingbird' through the imagery of the dead hummingbird and her blank facial expression, whilst the trickling blood around her neck can be interpreted as her own emotional crisis.
Kahlo's indigenous Mexican and Aztec culture has greatly affected her paintings and her their aesthetics. Throughout all her work, there is strong indigenous Mexican imagery and symbolism. In Mexican folklore, a bird is considered a sign of good luck with falling in love (Kahlo,2005). The hummingbird that hangs from her necklace is lifeless and has dark colouring, whereas a living hummingbird that is rich and beautifully coloured. This implies there was no luck in her marriage or love affair, both relationships are dead. As well as this the Hummingbird represents herself as the shape of the birds' wings mirrors the curvature of Kahlo's eyebrow (Sharyn R. Udall,2011) in the painting, the eyebrows that made her portraits so iconic and in 2018 a symbol of feminism.
Kahlo has painted herself in a plain white tunic. The colour white is symbolic of purity, innocence, wholeness and completion(Scott-Kemmis,2009) Kahlo could be expressing how she truly sees herself as being innocent throughout the divorce, even tho she was the one who had an affair. The butterfly hair accessories and crown could represent new life and happier times upon the horizon and could possibly be alluding to resurrection in the form of transformation (GalleryIntell,2012), as Kahlo believed in this. Around her neck, she wears a necklace of thorns being pulled by a monkey on her shoulder. The monkey is a sign of evil in Mexican culture (Hear no evil, see no evil, speak no evil(Hidari Jingoro)) A spider monkey was once given to her by Rivera and thus the monkey in the painting could represent him. The fact that the monkey is pulling on the thorns as if to chock her, this could symbolise her entrapment and pain he caused her throughout the marriage and as the painting depicts, drawing blood from the physical and emotional pain. The thorns are also a direct reference to Jesus Christ and his pain and suffering.  Givenchy's 2010AW catwalk had a similar necklace which could have drawn inspiration from Kahlo's painting, as well as the obvious referral to Jesus Christ.
"They thought I was a Surrealist, but I wasn't. I never painted dreams. I painted my own reality.' – Frida Kahlo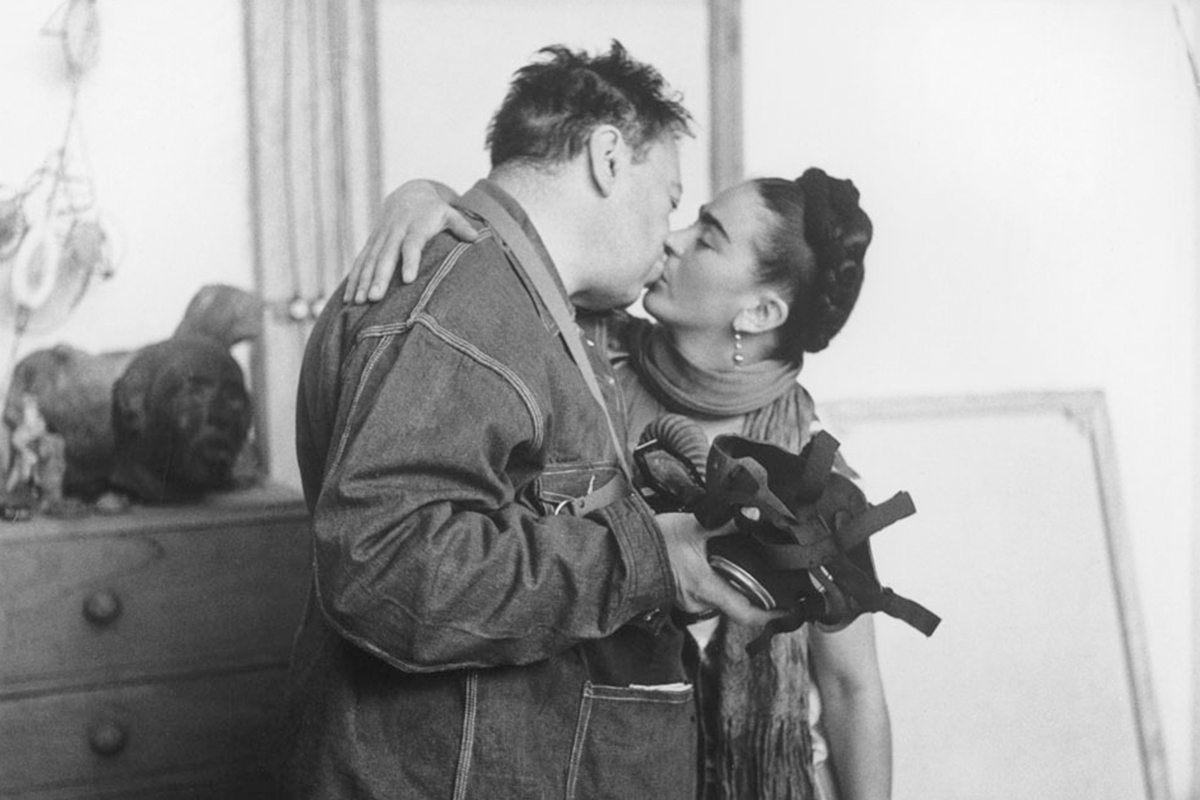 References
Chicago, J., Borzello, F. and Kahlo, F. (2010). Frida Kahlo: face to face. München [u.a.]: Prestel.
Kahlo, F. (2005). The diary of Frida Kahlo. New York: H.N. Abrams, p.78.
Lacma.org. (2012). In Wonderland: The Surrealist Adventures of Women Artists in Mexico and the United States | LACMA. [online] Available at: www . lacma.org/art/exhibition/wonderland-surrealist-adventures-women-artists-mexico-and-united-states [Accessed 5 Mar. 2018].
Scott-Kemmis (B.SocSc), J. (n.d.). The Color White. [online] Empowered By Color. Available at: http://www.empower-yourself-with-color-psychology.com/color-white.html [Accessed 4 Mar. 2018].
Udall, S. (2003). Frida Kahlo's Mexican Body: History, Identity, and Artistic Aspiration. Woman's Art Journal, 24(2), p.12.
Images
galleryIntell. (2018). Self-Portrait with Thorn Necklace and Hummingbird by Frida Kahlo. [online] Available at: www . galleryintell.com/artex/self-portrait-thorn-necklace-hummingbird-frida-kahlo/ [Accessed 5 Mar. 2018].
Google.co.uk. (2018). BW Thron Necklace. [online] Available at: www . google.co.uk/url?sa=i&rct=j&q=&esrc=s&sourcerce=imgres&cd=&ved=2ahUKEwiXw5CMqNXZAhVBm   [Accessed 5 Mar. 2018].
I.pinimg.com. (2018). Throns. [online] Available at: i. pinimg.com/736x/36/ac/54/36ac54bcc9036af720e0a82d310e051d–crown-of-thorns-black-white-photography.jpg [Accessed 5 Mar. 2018].